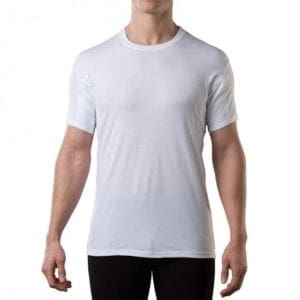 America will soon become more familiar with hyperhidrosis, or excessive sweating, thanks to a visit to ABC's hit TV show Shark Tank on ABC from Billy and Randy, the co-founders of Thompson Tee!  Thompson Tee makes special sweat-proof T-shirts that keep your sweat from showing through your shirt or staining your undershirt or shirt.  Learn more about them Thompson Tee here.
While the Thompson tee is a great solution for someone with axillary (underarm) hyperhidrosis, there are some other ways to help prevent the excessive sweating from even happening, and for other body areas as well, such as for hands and feet.  Hidrex USA has a machine called an iontophoresis device that is 98% effective in stopping excessive sweating in hands, feet, and underarms, as well as other less common areas.  A user would apply some regular tapwater that has a mild electrical current in it to the area needing treatment (with a small tray for hands and feet, or absorbent pads for underarms and other areas) for about 10-15 minutes a day for about 10 days.  The excessive sweating is typically eliminated or greatly reduced by the 10th treatment, and then the user can treat about once a week to continue staying dry.  The Hidrex USA models have features to allow you to adjust the current and voltage to adjust for comfort and efficiency.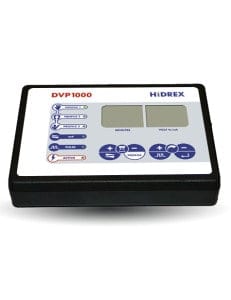 Iontophoresis is clinically proven to be very effective, and is widely considered to be one of the most effective AND COST-effective ways of treating hyperhidrosis, due to it being only a one-time purchase without future on-going costs.  The Hidrex USA iontophoresis devices are FDA cleared for safety and efficacy for the treatment of hyperhidrosis.  A prescription is required for purchase, and many insurance companies will reimburse the user some or most of the cost of the device.
While there are some other treatment options for treating hyperhidrosis, iontophoresis remains one of the best options as it is drug-free, needle-free, surgery-free, little or no ongoing costs, long-term solution, and highly effective.  It is also risk-free, as Hidrex USA offers an 8 week money back guarantee if someone doesn't want it or if they are one of the few people that don't respond to treatment.
Contact us today or view our Iontophoresis Devices on our website.