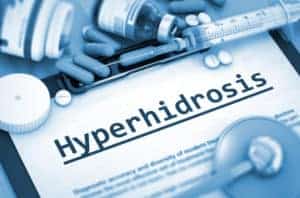 School can be a hard time for students. Between the academic requirements, hormonal changes, and interpersonal drama, most students have a hard enough time coping. But now imagine a student has a chronic issue such as hyperhidrosis — a condition that results in chronic excessive sweating.
It's a well-documented fact that the 90% of people suffering from hyperhidrosis are emotionally affected by their ailment. In a survey, respondents even reported diminishing confidence as a result of their hyperhidrosis. For students, there can be no doubt that this is even worse.
If you are a nurse or other professional working in a school, then it is important that you not only understand hyperhidrosis and it's physical effects, but also the emotional effects as well.
Here are a few tips for school employees when dealing with students suffering from hyperhidrosis.
Be Understanding
If a student tells you they are suffering from excessive sweating, don't write it off as a quirk of adolescence or puberty. Hyperhydrosis is a serious issue, requiring hyperhidrosis treatments like iontophoresis to stop excessive body sweating. While the condition may be rare, affecting one to 3% of the population, it is still important to recognize the possibility that an excessive sweating problem might be hyperhidrosis.
Be Careful How You Speak to Family
There can be an impulse to minimize the emotional importance of a disease such as hyperhidrosis, especially when trying to reassure a parent or guardian. Statements like "they'll get over it soon," or "they'll realize it's not a big deal when they're older," might be meant to comfort the parents, but if the parent suffers from the condition as well — and there is a good chance of that, since up to 50% of hyperhidrosis suffers have a similarly afflicted family member — then it can come off as offensive or patronizing.
Educate Teachers and Staff
If a student is diagnosed with hyperhidrosis it is important for you to become their advocate. many teachers and staff members might not understand the condition and might inadvertently call attention to the problem, or worse, exacerbate it. Even if the student is pursuing hyperhidrosis treatments you should talk to the teachers and staff about what hyperhidrosis is and how best it can be mitigated in the classroom.
School nurses can play a huge role in helping to identify students who might be suffering from hyperhidrosis. Since the ailment can be so damaging and hyperhidrosis treatments are so easy, something as simple as alerting the student's parents to the possibility of the ailment can have huge ramifications for the student, vastly improving their quality of life.