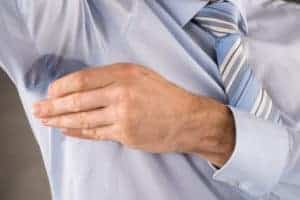 If you are looking for tips to stop excessive sweating, you might be suffering from a condition known as hyperhidrosis. This condition occurs in varying degrees of severity and has a wide range of treatment options. Before we get to those proactive treatments for hyperhidrosis, here are some tips to stop excessive sweating before it happens in the first place.
Avoid Stress
Since stress and anxiety can trigger a sweating response, reducing the frequency of these could lead to less sweating. Though it isn't always possible to avoid stressful and anxiety-inducing situations, finding outlets that mitigate the effects can be beneficial. This is true whether or not you have hyperhidrosis, as anxiety takes a negative toll on your life in many other ways.
Be Cold
This might not work for people with severe hyperhidrosis, but if your environment is colder than your body is used to, you might sweat less. Heat causes the body to produce sweat in order to cool down the body. If there is no heat, and you have a minor form of the condition, you might find yourself naturally sweating less.
Prescription Deodorant
Store bought antiperspirant does the job for most people, but not everybody. Even individuals who don't have hyperhidrosis may find themselves sweating through their deodorant after intense physical activity. That doesn't mean all deodorant is ineffective though. Ask your doctor about prescription grade antiperspirants. It could take care of your sweating problem without resorting to more expensive medical treatment.
Preventative Treatments for Hyperhidrosis
If nothing else is working, consult with your doctor about a revolutionary treatment called Iontophoresis. This treatment involves minor electrical currents that run through water in which your hand (or other body parts) is submerged. The exact reason for its efficacy is not fully known, but between six and ten treatments will cause your sweat glands to shut down. This has been the standard treatment for excessive sweating in Europe for decades, but this exciting treatment is now available with a prescription within the United States.
If you are interested in putting an end to your excessive sweating, then you may consider trying everything above. Start out with simple solutions, and if they don't work, talk to your doctor about more preventative methods. Bring up Iontophoresis devices and get their medical opinion. Treating hyperhidrosis is difficult due to the less than complete medical understanding of what causes it to occur. Luckily, Iontophoresis is helping Doctors find a better understanding of the condition, and perhaps, a cure.